We live in a society where everyone have their own conceptions about complications and also the course of action to take charge of it.
All the more some presume that their problem is of great import and endless, which makes it even harsh to cope with.
I, like any other human, had my own perspective of it.
The fundamental grounds of my problems were focused on peer pressure, wrangles with my family and friends, unsatisfied wishes and what not!? I was of the opinion that I'm a sufferer.
But soon after my school was over and I joined college I figured out that the actual life and issues are yet to come into existence.

I am a social work student of Amity University, Noida and being so every single week I have to do field work for which paying a visit to location, meeting the people face to face and addressing their daily troubles is a must.
My concern is to educate kids. For the first time I'm going to do this, my enthusiasm level was 101 accompanied by little anxiousness. I did not wanted any child to feel lower in status or downhearted.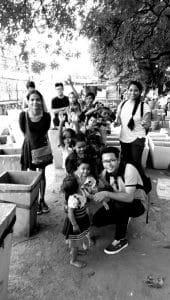 Those young persons are very easy to get along with, subsequent to meeting them I descried. All of my restlessness was no longer believable.
I met best 16 kids of my life.
Roaming around, I observed the area where they reside. This is definitely not where they belong to.
Basically, these children and their families were a local inhabitants of a area near khirki village, Saket, but because of the high rise lifestyle a lot of people were dispossessed of their homes reason why now they have to be housed at a footpath with zero facilities.
This was the day I saw the real face of poverty and unpredictability. Closely.
The families have to go through plethora of difficulties each day. From settling in a small tent made of plastic and broken rusted iron rods and adjusting 5 members in it to no source of income.
There's a little or no job opportunities for them and hence origination of basic income is less or nothing. They earn some money by offering tea and snacks for sale or by working in a vehicle parts repairment shop.
This isn't all, kids also told us that catching sight of snakes and other wild animals in and around their houses is no longer a big deal for them.
Also, I couldn't accept it as true unless a elderly man gave credence to the fact that there are some bandits and reports of loot cases. So yes, security is clearly not up to scratch.
Well, they can't even afford water, let alone a safer place to stay in.
But the most priceless thing is, that those little gems, regardless of all the misfortune at all times hold up a big amazing smile on their faces. They are as happy as calm, as smart and talented as anyone can ever be, as cute as a cupcake, as clear as a bell and as sharp as a needle.
Some of them have a yen for becoming a doctor, some dancer, some scientist and some story tellers. And oh! Such encouraging parents.
All they need is a right platform and that LITTLE UMBRELLA FOUNDATION is proffering them.
LUF is a organization working for education of penurious street kids. I'm glad to be a part of this agency.
Our head/director Prity Rawat, a young achiever is a management professional, have done executive MBA from BHU and is presently working day and night for the children and their finer future.
LUF is selflessly working not just for the kids but also for the families. Here in this organization we don't teach kids ABCD, rather we focus on educating them about basic morals and values, hygiene, sanitation, behaviour and their rights.
Along with it, there are proper programmes to support their talents. Afterwards, when the child in all respect is all geared up, we send them to schools.
Now let's come to what you all can do? Extend your hand to support the needy.
You can donate: money, food, toys, clothes, books or any other stationary item et cetera.
You can join LUF as a volunteer.
Also, you can come up with jobs for men's and women's accordingly which eventually will help them to earn and support their children.
Because we as a group, aim to solve as much issues as we can.
Show your love, help us grow and contribute your part.
For more information, log on to littleumbrellafoundation.org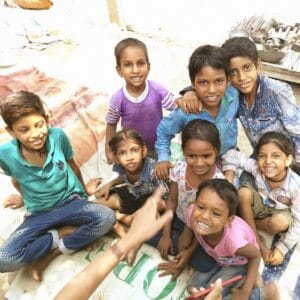 We create such classrooms through "Alternative Education" in Little Umbrella Foundation!